---
Judy's Party - A Legacy of Love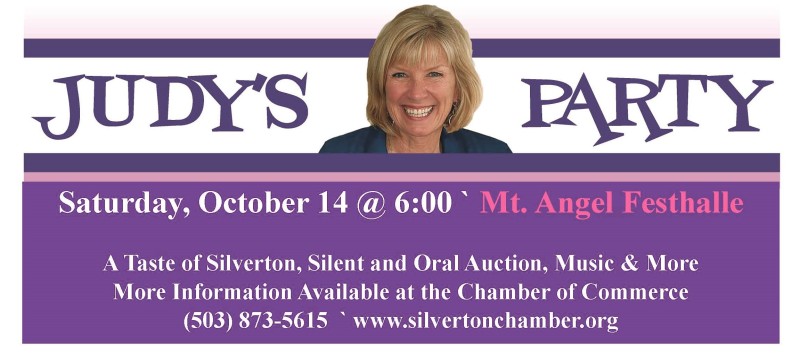 The Silverton Chamber of Commerce is gearing up for the 3rd Annual Judy's Party.

Designed as an evening of fun, food, community building and fundraising. Honoring a community icon Judy Schmidt, and her contributions to the volunteer spirit and history in Silverton. A wonderful event benefiting the Silverton Chamber of Commerce and local non-profits. Over the last two years this event has generated over $27,000 in grants to local non-profits.

Enjoy a Bite of Silverton as many local restaurants showcase their specialty items and desserts. Come savor some of the best local treats as you help a great local cause.

Silent and oral auction items will be available throughout the evening - A beach get-a-way, House in Mexico for 10, River Rafting tours, guided fishing trips, whole house cleaning packages, and more await attendees.

Ever played adult Heads or Tails for great prizes? Here's your chance for $10 a try.

Music to dance by - not an auction person, just come for the party!

Click on the picture to the left to purchase tickets - $40 each or reserve a table for $320.

---
Welcome Message
The Silverton Chamber of Commerce invites you to explore and learn about the medley of treasures we have to share. Founded in 1854, Silverton is a historic town with stately homes shaded by grand old oak trees nestled in the heart of the Willamette Valley.
Spring, summer, winter or fall, Silverton is a wonderful place with a full complement of amenities and activities. On any given day you can refresh yourself with a tour of The Oregon Garden, a walk through Silver Falls State Park, an exploration of the wonderful shops and restaurants in downtown Silverton or a visit to nearby farms and vineyards. Use this website as a guide for what to see and do around town.
With its scenic beauty, rich history, charming downtown and gems of nature – it's no wonder Silverton is Oregon's Garden City, the perfect place to grow your dreams!
I look forward to your next visit.
Stacy Palmer, Executive Director
Chamber Advocacy on Behalf of Business in Oregon

One of the benefits of being a chamber member is knowing that our organization and our State Chamber are advocating on behalf of the businesses in our community and in our state. The legislature and the legislative process can be a tricky thing to stay on top of for most small businesses. Too many things all happening at once, keep many business owners from being engaged in the process.

Each year the Oregon State Chamber in collaboration with local chambers puts together a legislative agenda and list of those concerns that have member businesses intrigued. The Silverton Chamber of Commerce adopted this legislative agenda and shares it's progress or updates with members weekly.

Here is a link to the latest Legislative Updates from the 2017 Session from our friends at the Oregon State Chamber of Commerce.
http://oregonchamber.org/category/advocacy/advocacy-updates/