Welcome to Silverton, Oregon's Garden City!
15 minutes from Salem the State Capital
45 minutes from Portland
A community with a passion for the arts including over 30 murals.
Eclectic shops, galleries, and fine eateries
Oregon's crown jewel of State Parks
World class Botanical Gardens
Whether it's shopping, history or outdoor recreation, Silverton has something for everyone! Come visit and learn why Silverton is the place where people, dreams, and business come to grow!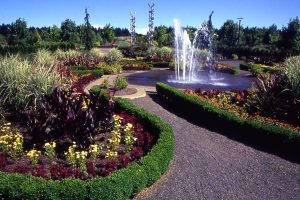 Founded in 1854, Silverton is a historic town with stately homes shaded by grand, old oak trees nestled in the heart of Willamette Valley. Our community is surrounded by fields of crops including hazelnuts, marionberries, strawberries, grass seed, and irises. Once a logging town, Silverton is now known for its gardens, restaurants, antiques boutiques, art galleries, murals and shops. With its scenic beauty, rich history, charming downtown, and gems of nature, it is no wonder Silverton is Oregon's Garden City - the perfect place to grow your dreams!
Art provides the vibrant thread that runs through Silverton's tapestry. Painters, players, poets and musicians all take a turn at center stage in community life. Silverton hosts several festivals throughout the year that celebrate culture; The Silverton Poetry Festival in April, Silverton Wine & Jazz Festival in May, Silverton Strawberry Festival in June, Homer Davenport Days and Silverton Art Festival in August.
Silverton celebrates it history with outdoor renditions of historic faces, places and events, with over 30 murals gracing local city buildings.  Tours are offered through the Silverton Mural Society.  More informtion at: www.silvertonmuralsociety.org
Theater abounds with Brush Creek Theater presenting plays in an intimate setting. Missoula Children's Theater rolls into town each year to teach local children about theater and joy and discipline of producing a play together and Silverton High School has a state of the art theater where their drama department produces several plays a year. First Friday is a festive monthly event as galleries open new exhibits and host evening receptions.